20 Jan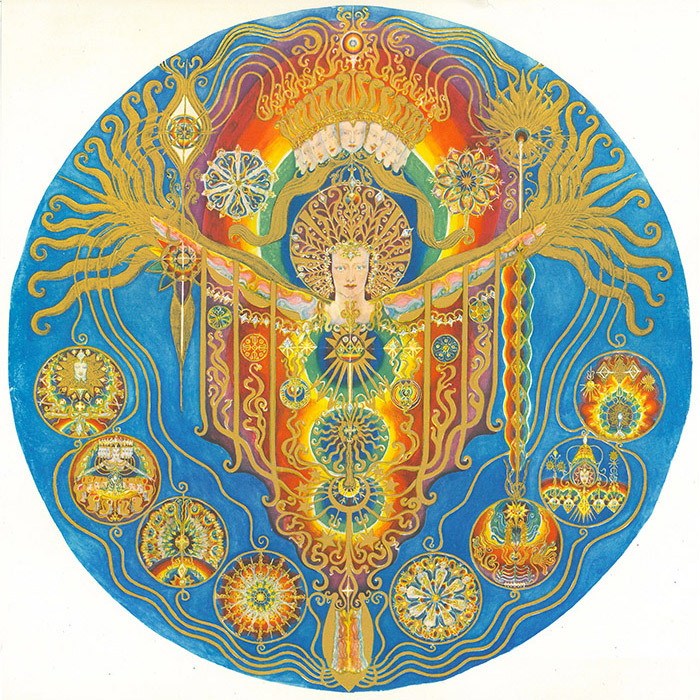 A GOODLY COMPANY
ETHEL LE ROSSIGNOL
A SERIES OF PSYCHIC DRAWINGS GIVEN THROUGH HER
HAND AS AN ASSURANCE OF SURVIVAL AFTER DEATH
The Horse Hospital, 1 Colonnade, WC1N 1JD
PRIVATE VIEW: Friday 21st February 2014
EXHIBITION: Sat 22nd Feb – Sat 22nd Mar, Mon – Sat, 12 – 6pm

Presented by The College of Psychic Studies & Strange Attractor
"This sequence of designs is shown to open the eyes of all men to the glorious world of spiritual power which lies about them."

Between 1920 and 1933 spirit medium Ethel Le Rossignol created a series of 44 paintings, 21 of which belong to The College of Psychic studies and will be on display with accompanying texts describing what she refers to as the Sphere of Spirit.
Radiant, psychedelic and ecstatic, her vision of the spirit world is consistent, coherent and stunningly beautiful, depicting a luminous realm of kaleidoscopic colour, inhabited by elegant sylphs, bejewelled apes and astral tigers.
Ethel's channelled paintings reveal a world of pure light, colour and energy. Incorporating aspects of Art Deco, popular playbills, Eastern mysticism, mandalas and miniatures, they radiate an ecstatic joy, and are prescient of the psychedelic art that would emerge several decades later.
As a medium Ethel took no credit for the actual work, identifying a spirit known only as J.P.F. as the real artist. J.P.F himself claimed to be channelling another group of spirits, who wanted to impart the secrets of the soul to those of us still on the physical plane.
At present very little is known about Ethel le Rossignol's life, though we hope that this exhibition might prompt new discoveries. There are clues in her writing that she lost a friend, perhaps relatives, in World War One, and that this encouraged her interests in afterlife communications, which boomed in the inter-war years. Certainly she had a great interest in mediumistic spiritualism, attending lectures and demonstrations on the subject in London.
Ethel died in 1970 and her paintings, and copies of her privately printed book, A Goodly Company, were donated to the College of Psychic Studies in South Kensington. The paintings have been on display in rooms at the College for many years but, as far as we know, this is both the first time that they have ever been exhibited outside the College, and the first time that they have all been seen together in one space.
Encountering the whole Goodly Company assembled in one gallery promises to be a powerful exposure to the astral light and the love that she and her spirit friends so wanted to convey.